This is our second movie date with the kids. When they saw the trailer of Transformers on our TV screen they said that they want to watch it. The kids are fans of transformers, well they are all boys so it is normal for them to be fans of it.Dark of the Moon is the third sequel from the transformers movie.
The movie is about a Cybertronian spacecraft, the Ark that carries Sentinel Prime, a former Autobot leader and his invention that could end the war between the Autobots and the Decepticons. But it crash landed on the dark side of the moon and detected on the Earth by the NASA and suspected aliens are true. The President on that year, John F. Kennedy permitted a mission to the moon to hide their investigation of  the craft they've detected. In 1969, the Apollo 11 and it's crew landed on the moon and explore the craft. In present time, Optimus Prime discovered a fuel cell from the Ark during his mission to Chernobyl to investigate a possible alien technology. From thence the Autobots go to the moon to find out what had happened to the Ark. In the Ark they found out a comatose Sentinel. Optimus bring his body to Earth and he used the energy of the Matrix of Leadership to revive him. Meanwhile, Sam was a little frustrated because he can't find a job and unable to work with the Autobots. He is also envious and jealous of the close relationship of his new girlfriend Caryl Spencer and her boss Dylan Gould. This started again a war between the Autobots, Decepticons and Humans.
The films visual effects are marvelous, really great but I advise that you get a seat far from the movie screen. I had a headache after watching it, we were a little bit closer because the cinema was half full already. Compare to other transformers movie, Dark of the Moon has less acting but more on visual effects. I really miss Megan Fox and her character on this movie, and they didn't elaborate why Sam and Mikaela broke up. But all in all, I enjoyed the movie as well as the kids
Mico, me, Chico, Kieth and  Kayil with Bumblebee.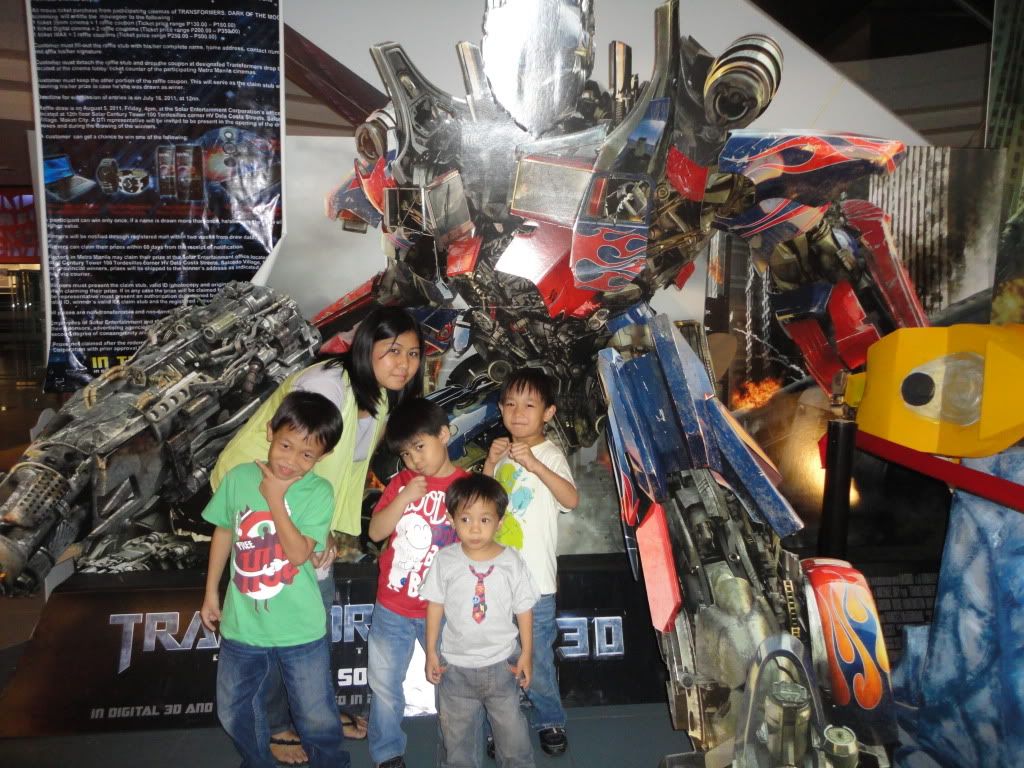 And with Optimus Prime. This was shot outside the cinema before we watched the movie.